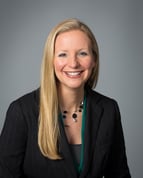 Emilee Riehn, CPA, who joined Rodefer Moss in 2004 when she began her public accounting career, is the firm's newest partner, said Jimmy Rodefer, the firm's chief executive officer.

"Emilee's client service combined with her leadership qualities makes this a well-earned partnership," Rodefer said. "She possesses the personal qualities and professional practices that support our firm's philosophy of listening better, trying harder, and caring more."
Riehn manages and supervises financial statement audits, reviews, and other assurance and consulting projects. Client industries and activities for which Riehn conducts and administers audits include manufacturing; construction; not-for-profit; utilities; transportation; school activity funds; and employee benefit plans.
"I am excited about this next step in my career and grateful to Rodefer Moss for this opportunity." Riehn said. "I am so fortunate to have a client base that keeps me looking forward to each day."
Riehn earned a Bachelor of Science degree in accounting from the University of Tennessee. She is a member of the American Institute of Certified Public Accountants (AICPA) and Tennessee Society of Certified Public Accountants (TSCPA). Riehn also is a member of the Accounting and Financial Women's Alliance (AFWA) and the Tennessee Electric Cooperative Association (TECA).
Share