Observers of the economy looking for signals of a significant change in trends will be disappointed going into 2018, as far as most major forecasters are concerned. History has taught us that economic inertia is usually short-lived but there is little evidence of a shift in the economy's current trajectory.
Although the political environment has been particularly volatile and uncertain in 2017, businesses view the Trump Administration's policies towards business to be quite consistent and have responded positively throughout the year. With the expectation that some form of tax legislation will pass that will allow corporations and individuals to keep more income, business activity accelerated during the fourth quarter. While most corporations gave little or no indication that a tax reform windfall would be used to boost hiring, job creation nonetheless outperformed expectations. November's addition of 226,000 jobs to U.S. payrolls pushed the average monthly hiring above 165,000 per month for the first 11 months of 2017. That's a pace that is 15,000-20,000 jobs higher than expected, and one that is unusual for a recovery in its ninth year. Looking forward, it appears that hiring growth in 2018 will be limited more by tight labor supply than by the perceived demand for business growth.
In terms of the construction economy's most widely-accepted measures of health – gross domestic product (GDP), unemployment, occupancy rates and the ten-year Treasury note – economists are anticipating that 2018 will look like 2017 (and 2015-2016) for that matter. Final data on the 2017 economy won't be wrapped up until well into the first quarter of 2018, but the third quarter data and early fourth quarter results indicate that the U.S. economy will continue to grow modestly, with modest upward pressures on both prices and interest rates and a labor market that is near full employment.
One forecast that is expecting better growth in 2018 is that of the Conference Board. Its chief economist and chief strategy officer, Bart van Ark, wrote of a stronger trajectory for the economy going into 2018. Van Ark sees GDP growth hitting 2.8% in the fourth quarter of 2017 and predicts 2.5% growth in 2018. The Conference Board expects that the pent-up demand from business investment will continue to boost the economy in 2018 as consumer investment levels out.

In his November 8 letter explaining the Conference Board's forecast, van Ark wrote:
"Business investment has awakened from the doldrums this year, rising by more than 4% after falling into negative territory in 2016. Confidence in the manufacturing sector has been especially strong. The composition of growth supports a long-term improvement in productivity. Capital equipment has risen at an 8.7% annual rate during the past two quarters, while investment in warehouse structures is up more than 20 percent since the end of last year. These investments demonstrate a renewed firm commitment to increased efficiency."
The increased investment in manufacturing over the past couple of quarters has given the economy a lift and some insight into the psyche of the private business owner. Although the ratio of operating income/interest expense has fallen in 2017, it's clear that manufacturers are confident in the outlook to increase capital spending on manufacturing facilities and plant equipment, even as capacity remains below the 80 percent bellwether level. Wells Fargo Securities, in its December 6 Interest Weekly newsletter remarked:
"The continued rise in capital expenditures has some positive implications, as it may provide a lift to the historically weak pace of productivity growth we have seen in this cycle. Moreover, it also implies that these companies have enough confidence in future sales prospects to justify ramping up new investments in their business."
Both economic output and productivity have rebounded since the slow start of 2017. The Commerce Department's December 1 report on GDP showed a strong first reading of third quarter GDP, registering 3.3% growth after the final revision of second quarter growth came in at 3.1%. Should the final estimates of third quarter growth remain above three percent, it will mark the first time GDP growth topped that level in consecutive quarters since 2014. One of the markers pointing towards that performance is the surprising jump in productivity that was registered in the second half of the year.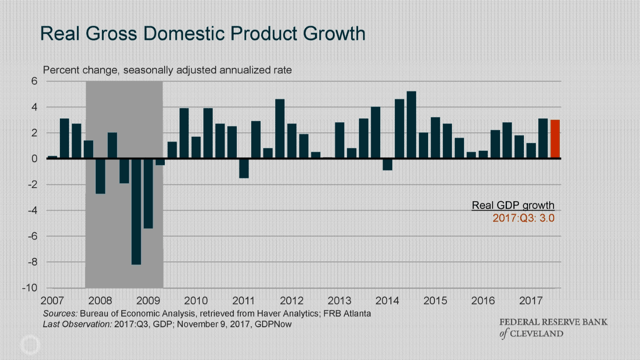 Workers produced 4.1% more in the third quarter of 2017, while working an additional 1.1% more hours. The resulting 3.0% jump in productivity was double the gain in the third quarter of 2016, according to the Labor Department's December 6 report. Last quarter's performance broke a decade-long trend of weak productivity gains that followed the Great Recession and the integration of computers and Internet into the workplace in the 2000s. The spike in productivity also sets the stage for higher wage growth, another metric that had lagged profits since the recovery began in 2010.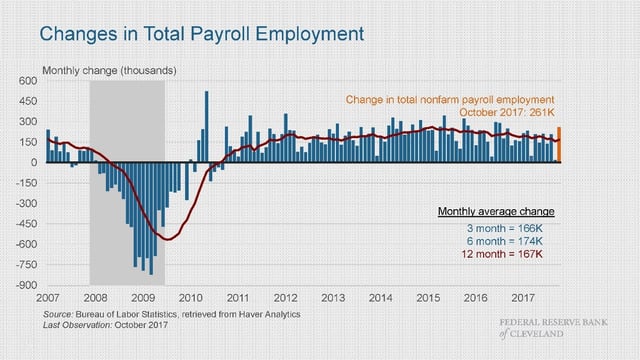 The measure of manufacturing activity rebounded in October and November after the shocks of the hurricane season in the South. Increased investment by U.S. manufacturers has been met by rising demand from overseas markets to create better conditions for U.S. producers. Double-digit gains in core capital goods orders, including mining and construction equipment, bode especially well for the manufacturing sector. If the Trump Administration can move an infrastructure spending plan forward in early 2018, demand for heavy equipment should rise that much more.
Looking towards 2018, three of the construction industry's leading economists anticipate growth in most sectors of the industry in the coming year, but anticipate that increases will slow down further from the ranges seen in 2017.
Ken Simonson, chief economist for the Associated General Contractors, has forecast a 2% to 7% increase in construction spending for 2018. Private residential construction will continue to be constrained by limited lot supply but will see the most growth at 6% to 9%. Private nonresidential construction should see more headwinds, as commercial construction begins to plateau and institutional construction wrestles with long-term funding solutions. The AGC forecasts an increase between 1% and 5% for nonresidential construction.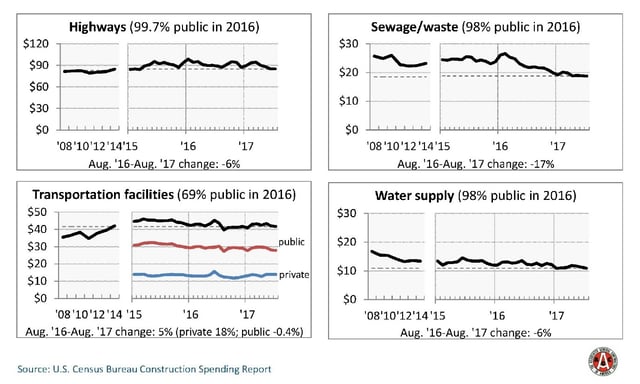 American Institute of Architects' (AIA) chief economist, Dr. Kermit Baker from Harvard University, presented the forecast of AIA's Consensus Construction Forecast Panel. The panel estimates that construction spending on nonresidential buildings will increase 3.8% year-over-year in 2017 and forecasts 3.6% growth in 2018. Commercial construction drove the market with an 8.8% increase in 2017 but the AIA panel sees spending on commercial projects growing by only 4% in 2018. Other highlights in Baker's forecast were a strong increase in industrial construction spending of 6.6% in 2017 and 5.8% next year. The AIA expects institutional construction to grow by only 1.1% in 2018.
ConstructConnect's Economist Alex Carrick noted that the synchronization of economic expansion across the globe is creating positive conditions that will be hard to derail in 2018. Carrick highlighted the pent-up demand in the housing market, which drove his forecast of higher-than-normal growth in residential construction.
"If Millennials decide they want to have single-family housing like their parents and grandparents, it will help to drive residential starts," said Carrick. "We've had 10 years when housing starts have been less than the 1.4 million benchmark that represents equilibrium. So, if housing ever really gets going, it's going to drive the economy for years to come."
Simonson's forecast for nonresidential spending is held down by concerns over the vitality of the public construction market, which he estimates could swing between a 3% increase or decline. In both of the largest segments of public construction – education and infrastructure – funding solutions for capital spending remain unsettled, although expenditures by states increased more briskly in fiscal year 2017.
In its November 16 State Expenditure Report for fiscal year 2017, the National Association of State Budget Officers estimated that capital spending by states will increase 5.7% over 2016, the largest increase since 2006. Following spending growth of 3.1% in 2016 and 4.2% in 2015, the higher rate of growth in 2017 is being attributed to heightened recognition of the need for infrastructure maintenance and acceptance that an increase in federal assistance may not be forthcoming.
The most recent readings on total U.S. construction showed that the industry is reaching record high levels. The Census Department reported on December 1 that annualized construction spending in October topped $1.241 trillion, a 1.4% increase over September and a 3.9% increase compared to October 2016.
Contractors are showing exceptional confidence in the market and the business conditions for the coming year. The U.S. Chamber of Commerce and USG Corporation, in conjunction with Dodge Data + Analytics, issued its Commercial Contractors Index on December 11. The report showed continued optimism about the industry, with an overall rating of 74. Among the key findings were:
Nearly all (98%) of contractors expect revenue to stay the same or increase in the next 12 months, a slight increase from the 95% reported in Q3.
Nearly all (99%) of respondents report high or moderate confidence that the market will provide sufficient new business opportunities.
Contractors report an average backlog of 9.4 months in Q4, which is 75% of the average ideal backlog of 12.5 months.
U.S. contractors are reflecting confidence in the industry that is almost universal heading into 2018. There are, of course, potential bumps in the road. The mid-term election cycle is likely to be rougher than in past. Concerns about global conflicts, terrorism and the investigations into the Trump Administration linger as incidents that could spark fear and cool confidence in the economy. In counter balance, the strong employment picture, rising wages, lower taxes and the expectation for some form of infrastructure stimulus, all provide a strong foundation for construction through the next 12 months.
Reprinted with permission from BreakingGround Magazine
Share