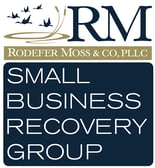 In response to the sweeping $2 trillion CARES Act relief package recently signed into law by President Trump, Rodefer Moss created the Small Business Recovery Group. This group of specialists will provide resources to help navigate through the complex issues and new regulations resulting from the CARES Act.
Below is a collection of helpful and informative resources related to COVID-19 relief in one easy-to-find location.
While many of the provisions are still ambiguous and there are still some areas where official guidance is not yet available, the Small Business Recovery Group will update information as soon as it becomes available. Please continue to check this page for the latest developments.
Tax Resources
---
Small Business Resources
Paycheck Protection Program (PPP)
SBA Economic Injury Disaster Loans (EIDL)

If you are having technical difficulties accessing the SBA website, you can download the EIDL application files below:
---
Other Employer & Business Resources
---
Other Available Relief
---
Resources by State
TENNESSEE
VIRGINIA
Share