The government's report on inflation in March showed the first month-to-month drop in consumer prices in almost a year, but the data on core inflation and producer prices showed that the prevailing trend is still upward. March's Consumer Price Index (CPI) fell 0.1% from February, owing entirely to declines in the price of gasoline. Core CPI, which excludes volatile energy and food components, rose 0.2 percent in March and 2.1% year-over-year. That increase continued the trend of growing year-over-year inflation. Producer prices rose three percent compared to March 2017.
Data released by the Bureau of Labor Statistics (BLS) on April 10 confirmed growing anecdotal evidence that prices for construction-related materials are rising much faster than overall inflation. The producer price index (PPI) for inputs to construction rose 0.8% in March alone and 5.8% compared to March 2017, the largest year-over-year increase in seven years.
The increases were observed across a broad spectrum of materials, including those that will be subject to tariffs. Those tariffs, coupled with growing demand for a number of short items like lumber and plywood, are providing the impetus for manufacturers of all products to test the markets to accept pent-up price increases. One of the industry's leading associations raised concerns that that tariffs on some items might lead to project delays and cancellations if supplies become unobtainable or too expensive for current budgets.
"Prices increased for many items in March, even before tariffs announced for steel, aluminum and many items imported from China have taken effect," said Ken Simonson, chief economist for the Associated General Contractors of America. "Steel service centers and other suppliers are warning there is not enough capacity at U.S. mills or in the trucking industry to deliver orders on a timely basis. Thus, contractors are likely to experience still higher prices as well as delivery delays in coming months."
From March 2017 to March 2018, the producer price index jumped by 13.7% for lumber and plywood, 11.4% for aluminum mill shapes, and 4.9% for steel mill products.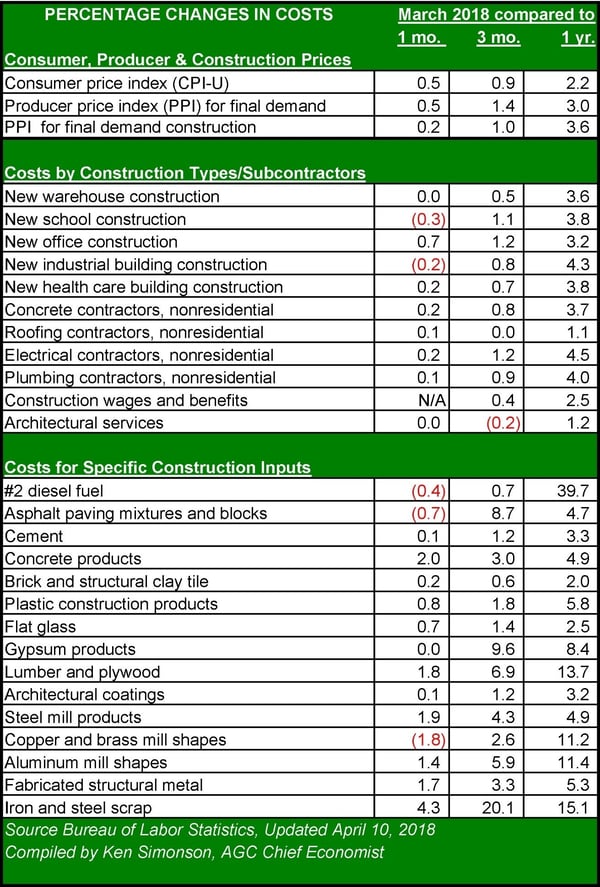 Other construction inputs that rose sharply in price from March 2017 include diesel fuel (39.7%); copper and brass mill shapes (11.2% ); gypsum products (8.4% ); and plastic construction products (5.8%). Concrete and other suppliers announced significant price hikes that were due to take effect in April.
Although the jump in PPI for steel mill products and structural shapes was lower than the composite index for all construction inputs, the March data misrepresents the market trends that followed President Trump's tariff announcement. Manufacturers announced double-digit price increases within days of the announcement, which did not come as a surprise to industry players. Because the tariffs had been anticipated, many distributors and fabricators placed advance orders for steel with the intent of beating the price increases of the coming months. This surge of orders, in turn, created a shortage in a number of domestic steel construction products, which pushed prices higher anyway.
Just as concerning was the impact on capacity and lead times. The activity in March, coupled with a shortage of flatbed trucks nationwide, added one to two weeks to lead times for many steel products. Lengthening lead times may prove a greater risk to construction than the rising prices, which can be managed through the budget process. Owners can adjust to higher costs by increasing budgets or value engineering. Few measures exist to shorten lead times.
Share